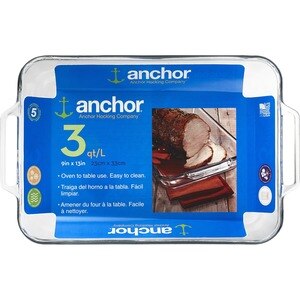 Anchor Hocking Bakeware 9 x 13 Inch
Bakes more evenly than metal. Comfortable, easy-grip handles. Tempered for added durability. Five Year Warranty. Made in the USA.
Save care & use instructions for your Anchor Hocking bakeware. Heat in oven only. Use your Anchor Hocking bakeware in gas, electric or microwave ovens without browning element. Do not use in oven over 450 degrees F. Not for stovetop, broiler or toaster oven use. Do not use an alcohol or canned heat burner as a direct heat source. Use for storing food. Use your Anchor Hocking bakeware for storing food in refrigerator or freezer, but do not take directly from freezer to oven. Let food thaw before cooking or reheating in oven. Clean with plastic or nylon non-scratch pads or cleansers. Wash your Anchor Hocking bakeware in detergent and water. For stubborn baked on food, let the bakeware soak and then use non-scratch cleansers and scrub pads intended for glass ovenware. Avoid severe temperature changes. Do not add liquid to a hot dish. Handle hot ovenware dishes with a dry cloth or potholder. Never place hot bakeware on wet of cold surfaces. Avoid impact with hard objects. Sharp knives or utensils may scratch and weaken glass bakeware. Do not use if chipped or cracked, or noticeably scratched.
Failure to follow these warnings may cause the product to suddenly fracture into many small pieces which could result in property damage or serious personal injury from cuts or burns. Scratches from certain cleaning material and utensils can weaken ovenware causing unexpected breakage when exposed to sudden temperature changes. Clean with a non-scratch pads and cleansers intended for glass bakeware. Avoid severe temperature changes. Avoid impact with hard objects. Use only in ovens (conventional or microwave). Do not use or place on stovetop, under broiler or in toaster oven.