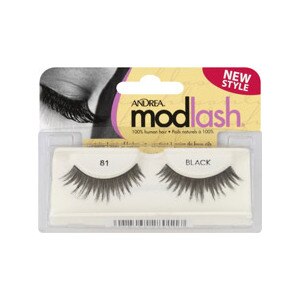 Andrea ModLash 100% Human Hair Lashes Black 81
Contains 1 pair of lashes. 100% human hair.
It's easy to apply Modlashes in 3 simple steps! 1. Check fit by applying first without adhesive. Grasping the corner of the lash band, gently remove lash from platform. Now hold lash at both ends and flex a few times. 3. Bring lash to eyelid and drape along lid as close to natural lash roots as possible. Press in place. If lash is too long, lift and trim along the outer edge. 3. Remove lashes and apply a thin coating of Modlash Adhesive with a toothpick along the strip and apply lashes.