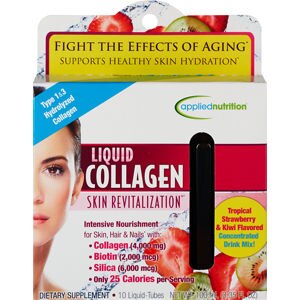 Applied Nutrition Liquid Collagen Skin Revitalization Drink Mix Strawberry & Kiwi
Dietary Supplement. Intensive nourishment for skin, hair & nails with: collagen (4,000 mg), biotin (2,000 mcg), silica (6,000 mcg), vitamin A, C & E. Superior skin revitalization formula. Delivers 4,000 mg of collagen in every serving! Collagen - the secret to youthful-looking skin! Collagen may be the most important element of human skin .This complex protein makes up nearly 80% of skin and provides structure, elasticity and protection, while helping to retain moisture within the deep dermal layers. As aging occurs, collagen naturally decreases over time. Sooner or later, the reduction of collagen causes skin to become thinner, drier and more fragile. Loss of collagen is believed to be the primary cause of fine lines and wrinkles that occur in naturally-aged skin. Liquid Collagen Skin Revitalization: This truly unique and innovative product is specially designed to fight the effects of aging. Simply mix one concentrated liquid-tube into 16 ounces of water per day. Each great-tasting liquid-tube delivers superior levels of collagen, plus a broad spectrum of antioxidants and nutrients such as biotin and silica, to help revitalize the skin from the inside out. Key Ingredients Include: Hydrolyzed Collagen: A full 4,000 mg to help replenish the body's supply of collagen; Biotin: The essential super beauty nutrient; vitamins A and C: Powerful antioxidant compounds to promote internal collagen production; Horsetail: Nutrient-dense botanical and natural source of silica; Antioxidant Blend: A combination of super fruits and green tea extract to protect skin from the damaging effects of free-radicals. Applied Nutrition is committed to developing science-based products that exceed the highest standards for quality and purity. As a leader in innovation, we continuously strive to bring forward new ideas and groundbreaking formulas that enhance health and well-being. Contains 2% fruit juice. Concentrated strawberry & kiwi flavored drink mix. Just shake vial, twist to open, pour into water and shake or stir! (These statements have not been evaluated by the Food and Drug Administration. This product is not intended to diagnose, treat, cure or prevent any disease).
Antioxidant Blend: Blueberry (Vaccinium Angustifolium) Juice Concentrate (Fruit), Pomegranate Juice Concentrate (Fruit), Green Tea Extract (98% Polyphenol, 50% EGCG) (Leaf). Other Ingredients: Purified Water, Citric Acid, Natural Flavors, Sucralose, Blueberry Extract and Carrot Extract.
Adult: Shake well then twist tab on top of liquid-tube until it breaks off. Pour concentrated liquid into 16 oz of water and shake or stir. Do not consume liquid directly from the liquid-tube. Drink one (1) liquid-tube per day. Store in a cool, dry place.
Do not use if safety seal is broken. Check with your doctor or health care practitioner before using this product especially if you are using medication or have any medical conditions. Do not use if you are pregnant or nursing. Do not exceed recommended daily intake. Not intended for use by persons under 18 years of age. Keep out of the reach of children.