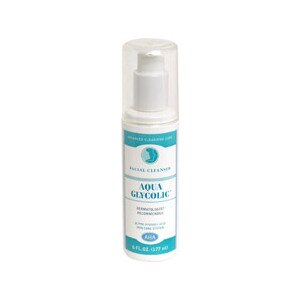 Aqua Glycolic Facial Cleanser
Alpha Hydroxy Acid Skin Care System. Dermatologist recommended. Advanced cleaning care. Aqua Glycolic Facial Cleanser is gentle, non-drying and compatible with all skin types. Can also be used for shaving sensitive areas, such as the bikini line, face and underarms.
Purified Water, Glycolic Acid, Ammonium Glycolate, Cetyl Alcohol, Ammonium Laureth Sulfate, Sorbitol, Stearyl Alcohol, Methyparaben, Propylparaben.
For Cleaning: Apply a moderate amount of cleanser to dry skin and massage. Add water, massage again and then rinse. Not for use on the eyes. For Shaving: Wet skin. Apply a moderate amount and massage gently. Wait for 10 seconds and shave as usual, pat dry. Note: For Skin with Razor Bumps: During the first four weeks of use shave infrequently and gradually increase frequency until you are shaving daily.
Mild irritation and stinging is normal on sensitive skin with razor bumps any sensitivity should subside minutes after use. If irritation persists, rinse off product, discontinue use and consult your physician. For external use only, avoid contact with eyes. Sunburn Alert: This product contains an Alpha Hydroxy Acid (AHA) that may increase your skin's sensitivity to the sun and particularly the possibility of sunburn. Use a sunscreen and limit sun exposure while using this product and for a week afterwards.