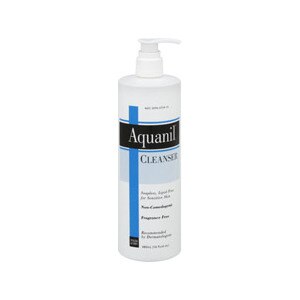 Aquanil Cleanser Non-Comedogenic & Fragrance Free
Soapless, lipid-free for sensitive skin. Recommended by Dermatologists. Aquanil provides gentle, complete cleansing of sensitive skin. Aquanil is specially formulated to be free of oils and irritating soaps. Aquanil, with its emollient effect, provides a skin softening action as it cleanses. Aquanil contains no fats of any type.
Purified Water, Glycerin, Cetyl Alcohol, Stearyl Alcohol, Benzyl Alcohol, Sodium Laureth Sulfate, Xanthan Gum.
Apply a generous amount of Aquanil to wet or dry skin and gently rub. Remove the excess with water, a soft tissue or cloth.