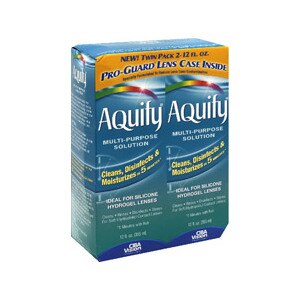 Aquify Multi-Purpose Solution 2 Pack
Compare & Save
with CVS/pharmacy Brands
Size: 2 EA

20% off Eye Care
$10.39
$12.99
Pro-Guard lens case inside: Data indicate that lens cases are a significant source of microbial contamination; The Pro-Guard lens case is specially formulated to reduce contamination on the lens case surface. Twin pack. Ideal for silicone hydrogel lenses. Specially formulated to reduce lens case contamination. Cleans, disinfects & moisturizes in 5 minutes (5 minutes with rub). Cleans. Rinses. Disinfects. Stores. For soft (hydrophilic) contact lenses. AQuify can be used in 2 convenient ways: 5 Minute express option (rub); No rub. AQuify is a multi-purpose solution for cleaning, rinsing, disinfecting and storing soft (hydrophilic) lenses, including silicone hydrogel lenses, as recommended by your eye care professional. AQuify is also indicated for daily protein removal when used with the no rub directions for use. AQuify - The fastest way for 'round the clock lens wearing comfort. Locks in moisture and helps keep lenses from drying. Some multi-purpose solutions require you to take your lenses out and soak them for 4-6 hours. AQuify Multi-Purpose Solution cleans, disinfects and moisturizes contact lenses in just 5 minutes. Clean your lenses with AQuify anytime and they are ready to wear again in just 5 minutes. AQuify's unique moisturizing agent, Dexpant-5 (dexpanthenol), locks in moisture and helps keep lenses from drying. Sterile. AQuify is ideal for silicone hydrogel lenses such as Night & Day and O2Optix. Made in Canada.
AQuify is a Sterile Aqueous Solution Containing Sorbitol, Tromethamine, Pluronic F127, Sodium Phosphate Dihydrogen, Dexpant 5 (Dexpanthenol), Edetate Disodium Dihydrate and Preserved with Polyhexanide 0.0001%.
5 Minute Express Option (With a Rub): Apply at least 3 drops of AQuify on each side of the lens and gently rub the lens 10 seconds. Rinse the lens thoroughly with AQuify. Fill the lens case with fresh solution. Allow your lenses to soak for at least 5 minutes. No Rub Directions: Thoroughly rinse each side of the lens with AQuify MPS. Fill the lens case with enough fresh AQuify to cover the lenses. Store the lenses in the closed lens case for 4 hours to overnight. Your eye care professional may recommend additional products or procedures to care for your lenses (such as rubbing) based on individual tear chemistry and lens wearing schedule. Always follow your eye care professional's instructions. If your eye care professional recommends an additional rubbing step, then apply 3 drops of AQuify Multi-Purpose Solution to each side and gently rub the lens 10 seconds. Rinse the lens thoroughly prior to soaking for at least 5 minutes. See package insert for complete instructions and important safety information.
Tamper Resistant: Do not use if CIBA Vision Safety Seal around the bottle cap is broken or missing or the carton is opened or damaged. If you are allergic to any ingredient in this solution, do not use. This product should not be used by persons who are allergic to silver. See package insert printed on inside of carton for detailed directions and important safety information. Store at room temperature. Use before expiration date marked on the bottle. Keep out of reach of children.