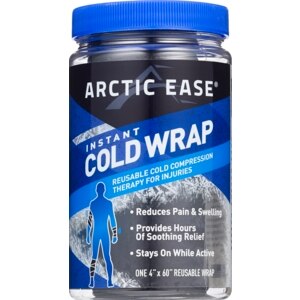 Arctic Ease Cold Wrap Pink
You May Also Like
Size: 50 CP
$21.49

Out of Stock
One 4 x 60 inch wrap. Reuseable cold compression wrap. Bag the ice, ease the pain. We Support: The Breast Cancer Research Foundation. Reduces pain & inflammation. Arctic Ease provide hours of cool relief from pain and inflammation without the messy discomfort of ice or frozen gel packs or the irritation of menthol patches. Arctic Ease administers therapeutic cold compression while conforming to the affected site. It'll stay in one place, even if you don't. It's suitable for sprains, arthritis, minor burns, bruises and muscle cramps. More information and other products available at www.arcticease.com. Antimicrobial properties built in to protect the product. Ready-to-use. No refrigeration necessary. Odorless. No menthol or alcohol. Latex & adhesive free. No clips or tape. Also available in blue, black, red and white. Please recycle. CE listed. Manufactured in the USA.
Contains: Water, Cotton and Proprietary Ingredients. No Active Ingredients.
Usage: Speed up healing with Cold Therapy Wrap during the first 48 to 72 hours after injury. Remove wrap from container, unroll, and if needed, cut to desired length. Position directly on affected area; apply pressure for 2-3 seconds to affix the end. For Reuse: Reroll the wrap and place in container. Add 1 to 2 tablespoons of water; place the cap back on to reseal the container. The wrap can be left in the sealed container at room temperature. Allow 2 to 3 hours for the wrap to rehydrate before use. If enhanced cooling is required, store wrap in the refrigerator.
For external use only. Do not use with open wounds/cuts or damaged skin. Avoid direct contact with eyes/mucous membranes. Stop use if rash or irritation occurs; consult a doctor if needed. Keep out of reach of children. Do not eat (if swallowed, seek medical assistance immediately. Do not freeze. Do not launder. Do not act surprised if it exceeds your expectations.