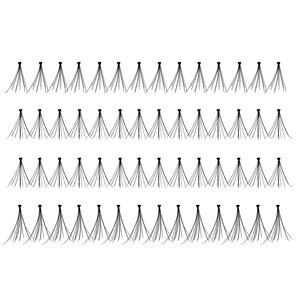 Ardell DuraLash Starter Kit Lashes
Easy to apply. Lasts for weeks. Salon style tweezers included. Includes: Duralashes, Lashtite adhesive, Lashfree remover and a pair of protools tweezers. Beautiful lashes are just minutes away. With Ardell's Duralash Starter Kit you can create your own custom lash look. These salon quality lashes are easy to apply and last for weeks. Duralashes are individual lash clusters which allow you to customize your look and go beyond what mascara can offer. Duralashes can be applied across the entire lash line as simple lash extensions to make sparse lashes look thicker. For a more natural look, they can be applied just to the outer comers of the eyes as accents or they can be used to fill in gaps in natural lashes to give a fuller appearance. Lashes made in Sri Lanka or Indonesia. Tweezers made in Korea. Adhesive and remover made in USA.
Product Type:

False Lashes

Ship & Save:

Ship & Save Eligible
Lashtite Ingredients: Methoxyisopropyl Acetate, Nitrocellulose, Alcohol Denat. Lashfree Remover Ingredients: Methylpropanediol, Melia Azadirachta Leaf Extract, Water (Aqua, Eau).
Before applying duralashes, thoroughly clean your natural eyelashes and eyelids so they are makeup and oil free. Pour 2-3 drops of lashtite adhesive onto a small piece of foil. Keep bottle tightly capped to prevent spilling and to keep the adhesive from drying out. Remove a duralash from the tray by gently grasping it with tweezers near the knotted end. Dip knotted end of duralash into Lashlife Adhesive. Do not fully coat the lash with adhesive. More adhesive does not mean better adhesion. Starting at the outer comer of your eye, place a duralash on top of your natural lash with knotted end as close to your eyelid as possible without touching it. Gradually apply duralashes, working toward the inner comer of your eye. For Easy Lash Extensions: Apply 10-15 duralashes per eye. To Use as Accents: apply 3-5 duralashes on the outer comers only. To Fill in Gaps: Apply only where needed.