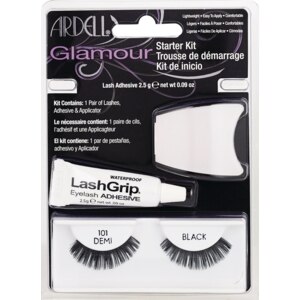 Ardell Fashion Lashes Starter Kit Black 101
Made from sterilized 100% human hair. Easy to apply. LashGrip Eyelash Adhesive [0.09 oz (2.5 g)]. Certainly our eyes are the most powerful feature we have. But to have the greatest impact, they need to be framed by beautiful luscious lashes. With Fashion Lashes, every woman can now have gorgeous lashes beyond what mascara can offer. Each lash strip is meticulously hand made with 100% sterilized human hair for perfect uniformity and an absolutely natural look. First time users will find Ardell's Fashion Lashes Starter Kit most helpful. It contains everything you need, including an easy-to-use lash applicator. Made in USA.
Product Type:

False Lashes

Primary Color:

Black

Ship & Save:

Ship & Save Eligible
Water (Aqua), Cellulose Gum, Sodium Dodecylbenzenesulfonate, Rubber Latex, Fragrance (Parfum), Formaldehyde, Ammonium Hydroxide.
Simple Three-Step: 1. Prepare lashes. Use after applying eye make-up. Hold lash hand at both ends and flex it gently a few times. Align lash band with your natural lash line, starting at the outer edge. If the band is too wide, trim the outer end with scissors to fit. 2. Insert adhesive. Place a lash strip in the applicator, exposing the band. While clamping the lashes firmly with the applicator, apply a thin line of adhesive along band. Use a toothpick if necessary to spread evenly. Hold until adhesive becomes tacky (30 seconds). 3. Apply lashes. Looking into a mirror, press band against eyelid as close to your lash roots as possible. Gently press corners with fingers for a few seconds to secure. Adhesive will dry clear in 3-5 minutes. To Remove: Gently peel off lash, starting at the outer corner. Remove the old adhesive from band and place lashes back on tray for reuse.