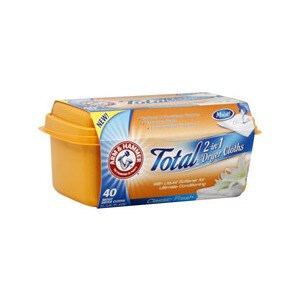 Arm & Hammer 2-in-1 Classic Fresh Dryer Cloths
7.5 x 5.6 in. Moist! With liquid softener for ultimate conditioning. Softens & revitalizes fabrics. Prevents static. Long lasting fragrance. Introducing Arm & Hammer Total 2-In-1 Moist Dryer Cloths! A revolution in the dryer! They're not a sheet, and they're not a liquid. They're a totally unique thick & moist cloth infused with a liquid softening and freshening formula that's activated by the heat in your dryer to leave your fabrics totally conditioned. Ultra soft feeling of a liquid fabric softener. Wonderfully soft laundry. Static prevention of a dryer sheet. Helps reduce wrinkling. Long lasting fragrance & freshness. Makes clothes look and feel newer longer. Revitalizes fabrics in your dryer. Safe for all washables.
Fabric Softening Agents and Fragrance in a Non-Woven Cloth.
Place cloth on top of clothes in dryer. For extra softness and freshness, or for larger loads, use 2 cloths. Keep container closed between uses. If spotting occurs, wet and rub spot with bar soap and rewash.
Keep out of reach of children and pets. Not for use on children's sleepwear or other garments labeled as flame resistant as it may reduce flame resistance. Avoid contact with eyes and eye area. Avoid prolonged skin contact. In case of eye contact, rinse eyes thoroughly with water. If on skin, rinse area with water. If irritation persists, contact a physician.