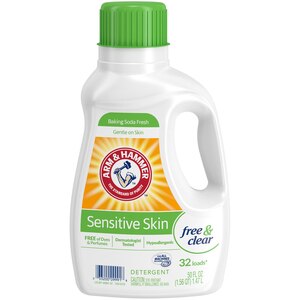 Arm & Hammer Laundry Detergent For Sensitive Skin
2x Concentrate. Dermatologist tested. Free of perfume & dye. 32 loads (Delivers 32 medium loads as measured to fill line). The cleaning power your need. The size you want. The brand you trust.
Cleaning Agents (Anionic & Nonionic Surfactants), Arm & Hammer Baking Soda, Water Softener, Soil Anti-Redeposition Agent, Optical Brightener.
1. Pre-Treat: Pour Arm & Hammer Liquid Detergent directly onto tough stains and rub in. Wash immediately. Always test on inside seam for colorfastness. 2. Measure: Fill cap to top for large loads. Use more for heavily soiled loads. For small or medium loads, fill to line. 3. Pour: Add Arm & Hammer Liquid Detergent to washer as it fills with water, then add laundry.
Keep out of reach of children. In case of eye contact, flush immediately with water. If swallowed, drink a glass of water. In either case, call a physician. If on skin, rinse thoroughly with water.