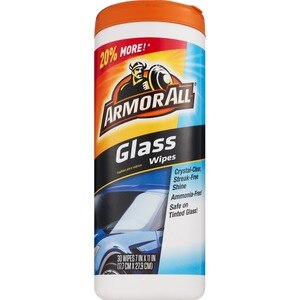 7 x 9 in. Streak-free! Designed for auto glass. Glass Wipes: Specially designed for auto glass; Removes film & grime on glass; Streak-free. Armor All Glass Wipes are the quick and easy way to clean your windows and glass. The wipes are specially formulated with just the right amount of moisture to clean glass and leave a streak-free shine for maximum visibility. And our formula is specially designed for automotive glass, so it''s ammonia-free, unlike many household glass cleaners. Contains no phosphorus. Made in the U.S.A.
Keeps wipes moist. Wipe glass clean with Armor All Glass Wipes. Wipes will feel slightly dry to the touch. Repeat until streak-free. Use additional wipes if necessary. Let surface dry. Dispose of wipe in trash. Do not flush. For best results, use on cool, dry surface. Very hot or cold temperatures may affect performance. To Open Package: 1. Open lid and pull out wipe from center of roll. 2. The next sheet pops up automatically. 3. When finished, close lid to retain moisture. Disposal: Offer empty container for recycling. If recycling is not available, discard container in trash. Note: Not for personal cleansing.
Keep out of reach of children.