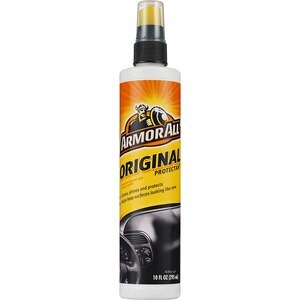 Armor All Original Protectant
Improved UV protection. Thicker, nongreasy formula! Cleans, shines & guards against UVA and UVB damage. Protects & preserves your car's rich look. Who says you can't improve upon a classic? Now, Armor All Original Protectant is even better! For generations Armor All has been the undisputed leader in protection, defending your vehicle from harmful elements like UV and oxidation. Our improved, thicker formula provides enhanced control, a nongreasy finish and a deeper shine. All this plus even better UVA & UVB protection, which you have relied on for years to preserve the natural beauty of your vehicle. Helps prevent cracking, fading, discoloration and premature aging. Brings out a beautiful, deep shine with a nongreasy finish. Safely cleans away dirt, dust and debris. Renews and revitalizes vinyl, rubber and plastic. Tips & tricks: Exterior plastic & rubber are exposed to UV damage, too! Be sure to protect them every time you wash your car to keep it looking great. Contains no phosphorus. Made in the U.S.A.
1. Shake well. 2. Apply liberally to a clean cloth and spread evenly, or spray onto surface. 3. Wipe off excess. 4. Apply as needed to maintain surface appearance and protection. Use only as directed. Not for use on floors, vehicle controls (pedals, grips, steering wheels), bench or cycle seats, cycle tires, brake drums and other surfaces where slipperiness may be hazardous. Do not use on or near clear plastic surfaces, glass (may cause smearing), fabric, woven materials or paint. Disposal: Offer empty container for recycling. If recycling is not available, discard container in trash.
Keep out of reach of children.