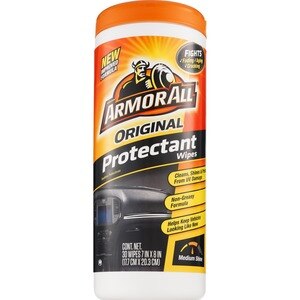 Armor All Protectant Wipes
7 x 8 in. Cleans, shines & protects; Guards against UV damage; For rubber, plastic & vinyl. Protectant Wipes: Renews & restores surfaces appearance; Protects against discoloration & fading; Lint-free. Armor All Protectant Wipes are the quick and easy way to clean, shine and protect your plastic and vinyl. The wipes are specially formulated to deliver Armor All protection without leaving a greasy residue on your hands. Contains no phosphorus. Made in the U.S.A.
Keeps wipes moist. Wipe clean surface with Armor All Protectant Wipes to maintain appearance and protection. Repeat if needed. Dispose of wipe in trash. Do not flush. To Open Package: 1. Open lid and pull out wipe from center of roll. 2. The next sheet pops up automatically. 3. When finished, close lid to retain moisture. Attention: Use only as directed. Not for use on floors, vehicle controls (pedals, grips, steering wheels), bench or cycle seats, cycle tires, brake drums and other surfaces where slipperiness may be hazardous. Do not use on or near clear plastic or Plexiglas surfaces, glass (may cause smearing), fabric, woven materials or paint. Disposal: Offer empty container for recycling. If recycling is not available, discard container in trash. Note: Not for personal cleansing.
Keep out of reach of children.