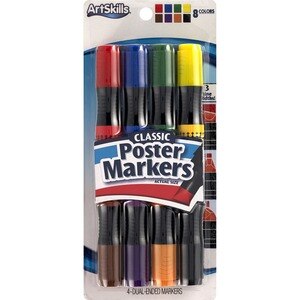 Art Skills Permanent Poster Markers Waterproof
8 Colors: Green/Orange; Blue/Purple; Red/Brown; Yellow/Black. Waterproof! Low odor. Writes on most surfaces. ArtSkills dual ended Permanent Markers are the perfect size for creating posters, large school projects and craft needs. Use the broad edge for bold, thick strokes. Waterproof ink writes on almost any surface. Contents: 4 Premium Dual Ended Permanent Poster Markers (8 colors). Conforms to the safety requirements of ASTM - Standard D4236. Made in China.
Not recommended for use on cloth. Do not shake.