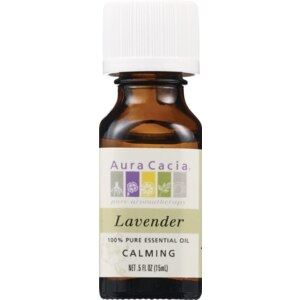 Aura Cacia Calming Essential Oil, Lavender
Pure aromatherapy. Character: Take in the atmosphere of shimmering, fragrant fields under the summer sun. The sweet herbal aroma of lavender evokes lazy, hazy days of leisure and rest. Benefit: Lavender essential oil will always calm and relax you. Aromatherapy Tips: Dispense a few drops on your pillow before bedtime. Open the bottle and simply breathe in the aroma when confronting any stressful situation. 100% pure essential oil. Not tested on animals. No synthetic preservatives, colors or fragrances. Aroma: sweet, floral. Origin: Ukraine/Bulgaria.
Product Type:

Body Oil

Formulation:

Oil & Shimmer
Lavandula Angustifolia (Lavender) Oil.
Relaxing Lavender Spa Bath: 1 tbsp sea salt; 1 tbsp epsom salt; 1 tbsp ground oatmeal; 27 drops lavender essential oil. Calming Room Spray: 4 oz bottled or distilled water; 18 drops lavender essential oil; small spray bottle or atomizer. Place ingredients in a spray bottle. Shake vigorously before misting room air.
If pregnant, suffering from any medical condition, or taking medication, consult a health care practitioner before use. Dilute properly - may irritate skin not for internal use. Keep out of reach of children.