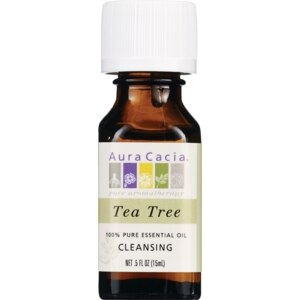 Aura Cacia Cleansing Essential Oil, Tea Tree
Pure aromatherapy. Character: Experience the clean, spicy-medicinal aroma of tea tree, the natural alternative to harsh chemical-based purifiers. Benefit: Tea tree oil will protect your body and purify your environment. Aromatherapy Tips: Rub a few preventative drops onto palms and fingers. Add several drops to rinse water to purify surfaces. 100% pure essential oils. Not tested on animals. No synthetic preservatives, colors or fragrance. Aroma: spicy, medicinal. Origin: Australia.
Product Type:

Body Oil

Formulation:

Oil & Shimmer
Melaleuca Alternifolia (Tea Tree) Oil.
Natural Hand Wipes: 1 package unscented disposable tissues; 1 freezer zip-lock bag; 1 tbsp rubbing alcohol; 15 drops tea tree oil; 3 drops lavender oil. Mix oils with alcohol, soak tissues, store in zip-lock bag. Purifying Room Diffusion: 1 aromatherapy candle lamp; 1/4 cup water; 10 drops tea tree. Add water and oil to lamp. Light candle and allow vapors to purify room air.
If pregnant, suffering from any medical condition, or taking medication, consult a health care practitioner before use. Dilute properly - may irritate skin not for internal use. Keep out of reach of children.