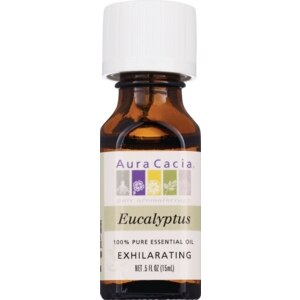 Aura Cacia Eucalyptus Exhilarating Essential Oil
Pure aromatherapy. Character: Imagine a warm, therapeutic blanket for your mind, body and spirit. The fresh, foresty aroma of eucalyptus oil nurtures your whole being. Benefit: Eucalyptus will open your breathing and clarify your mind. Aromatherapy Tips: Place a single drop in the palm of each hand, rub together and cup over your face. Breath deep and awaken the senses. 100% pure essential oils. Not tested on animals. No synthetic preservatives, colors or fragrance. Aroma: fresh, medicinal. Origin: China.
Product Type:

Body Oil

Formulation:

Oil & Shimmer
Eucalyptus Globulus (Eucalyptus) Oil.
Natural Penetrating Chest Rub: 1 tbsp. coconut oil; 9 drops eucalyptus oil; heating pad. Mix coconut and eucalyptus oil in small dish, massage into chest area, cover with warm pad. Clean Air Room Diffusion: 10 drops eucalyptus oil; diffusing apparatus (candle lamp, fan powered or plug-in). Allow oil to evaporate into room. Especially during winter season.
If pregnant, suffering from any medical condition, or taking medication, consult a health care practitioner before use. Dilute properly - may irritate skin not for internal use. Keep out of reach of children.