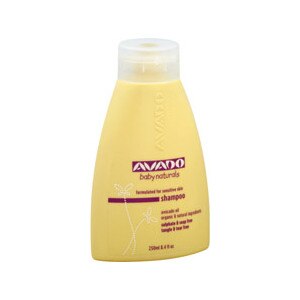 Avado Baby Naturals Shampoos
Formulated for sensitive skin. Avocado oil. Organic & natural ingredients. Sulphate & soap free. Tangle & tear free. Using only pure ingredients and enriched with Organic Avocado Oil, Avado baby shampoo contains a gentle blend of Organic Jojoba and German Chamomile Oils that will leave your baby's hair soft, shiny and tangle-free. Our product is Sulphate and soap-free. Natural. Organic ingredients. Natural fragrance. All organic ingredients are ACO certified. Made in Australia.
Certified Organic Chamomile Extract, Certified Organic Calendula Extract, Coco Glucoside, Vegetable Glycerol, Capric/Caprylic Glucoside, Guar Gum, Suttocide, Mandarin Essential Oil, Orange Essential Oil, Citric Acid, Certified Organic Avocado Oil, Certified Organic Lavender Essential Oil, Certified Organic Ylang Ylang Essential Oil, Certified Organic Jojoba Essential Oil, Certified Organic Chamomile German Essential Oil.
Apply a small amount to the palm of your hand and massage gently into baby's hair. Rinse thoroughly.