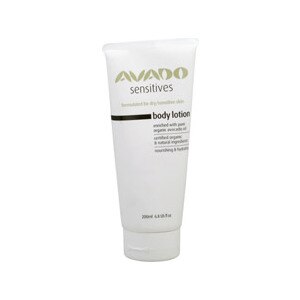 Avado Sensitives Body Lotion
Enriched with pure organic avocado oil. Certified organic & natural ingredients. Nourishing & hydrating. Using only pure ingredients and enriched with Organic Avocado Oil, Avado body lotion offers powerful skin hydrators in one unique all-purpose blend formulated for dry and sensitive skin types. Specially formulated to smooth and nourish the skin. Natural. Organic ingredients. Natural fragrance. Made in Australia.
Certified Organic Calendula Extract, Certified Organic Chamomile Extract, Water, Glyceryl Monostearate (Plant Derived), Certified Organic Sunflower Oil, Certified Organic Olive Oil, Vegetable Glycerine Cetyl Stearyl Alcohol (Plant Derived), Sodium Stearoyl Lactylate (Plant Derived), Cetyl Palmitate (Plant Derived), Certified Organic Avocado Oil, Lactic Acid 88%, Certified Organic Lavender Essential Oil, Potassium Sorbate (Plant Derived), Locust Bean Gum, Certified Organic Rose Hip Oil, Salicylic Acid (Plant Derived), Certified Organic Jojoba Oil, Certified Organic Ylang Ylang Essential Oil, Soy Lecithin, Natural Vitamin E, Certified Organic Green Tea Extract, Rosemary Essential Oil.
Apply a small amount to the palm of your hand and massage gently into your skin.