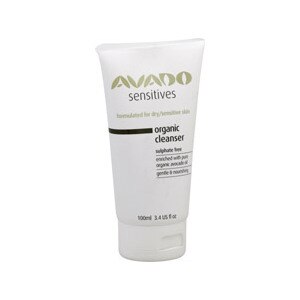 Avado Sensitives Organic Cleanser
Formulated for dry/sensitive skin. Sulphate free. Enriched with pure organic avocado oil. Gentle & nourishing. Avado Sensitives cleanser is ideal for those suffering from sensitive dry skin. Rich in certified organic ingredients such as calendula, neroli and aloe vera. This gentle cleanser will wash away makeup and the day's build up of dirt and oil leaving your skin feeling refreshed and revitalised. With added Certified Organic Avocado Oil it will keep the skin hydrated and moisturised. Natural. Organic ingredients. Natural fragrance. Processor 10190P. Australian certified organic. Made in Australia.
Certified Organic Calendula Extract, Certified Organic Neroli Extract, Certified Organic Honey, Decyl Glucoside (Plant Derived), Certified Organic Aloe Vera Extract, Certified Organic Guar Gum, Orange Extracts, Certified Organic Orange Essential Oil, Certified Organic Geranium Essential Oil, Certified Organic Petitgrain Essential Oil, Certified Organic Avocado Oil, Certified Organic Chamomile Roman Essential Oil.
Apply a small amount to the palm of your hands. Add a little water and gently massage over damp face and neck area. Rinse off with warm water.