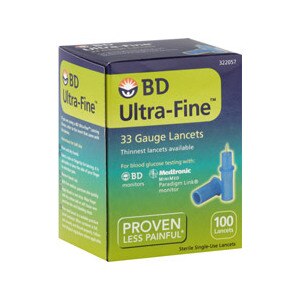 BD Ultra-Fine 33 Gauge Lancets 33G
Thinnest lancets available. For blood glucose testing with: BD Blood glucose monitors; Medtronic MiniMed Paradigm Link monitor. Proven less painful (Testing in BD Ultra-Fine Lancing Device when compared to 28 gauge lancets in other lancing devices. Data on file at BD). Sterile single-use lancets. 49 % Thinner (BD Ultra-Fine Lancets are 49% thinner than lancets used most commonly with other meters. Data on file at BD). The thinnest available. For testing you can barely feel. Made in Ireland.
If you are using a BD Ultra-Fine Lancing Device, refer to the insert that came with device. Instructions for Self-Use: 1. Wash and dry hands. 2. Select a site on fingertip for lancing. It is advisable to lance the side of your finger to minimize pain. 3. Remove lancet cap. 4. With firm motion, puncture skin quickly. 5. Apply blood to test strip. Wipe finger with dry cotton ball or soft tissue over puncture site until bleeding stops. 6. Place used lancet in a sealable puncture proof container. When container is full, seal securely and discard properly. Follow local disposal regulations where applicable.
Contents contain small parts. Keep out of reach of small children and pets.