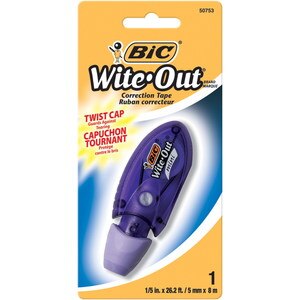 BIC Wite-Out Correction Tape Mini
0.2 in x 19.8 ft. 6 meters. Easy to use! Applies dry! Protective cap. Fix mistakes fast. Superior coverage. Great for home, school or office. Write or type over immediately. For left and right handed use. Made in Vietnam.
1. Position tip at angle on area to be corrected. 2. Press down firmly and move dispenser in a straight line across correction area. 3. Lift dispenser off paper to make a clean break. 4. Type or write over correction. If the tape becomes loose: turn self winding wheel in direction of arrow until tape becomes tight on tip.