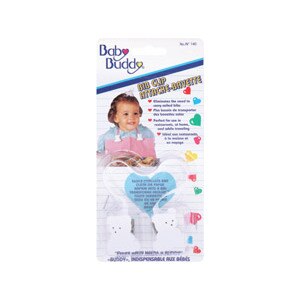 Baby Buddy Bib Clip White
Eliminates the need to carry soiled bibs. Perfect for use in restaurants, at home, and while traveling. Easily converts any cloth or paper napkin into a bib. Every baby needs a buddy. Our Bib Clip is designed to provide a safe method for converting a cloth or paper napkin into a bib. Using our Bib Clip helps prevent clothing from getting soiled and eliminates the need to carry bibs. Using the highest standards of quality, all of our Baby Buddy products have been designed to make life easier and more enjoyable for both parent and child. Made in USA.
Simply clip a bear to the edge of a napkin. Position the napkin in front of child, packaging the ribbon behind child's neck. Clip the remaining bear to the edge of the napkin. To Clean: Hand wash in warm, soapy water. Dry with a clean cloth or allow to air dry. Do not put in washer or dryer.
This Bib Clip is not a toy and should only be used with adult supervision. Never under any circumstances, leave your child unattended. Do not use in a crib, playpen or bed.