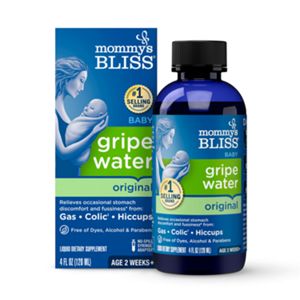 Dietary Supplement. Pediatrician recommended. All natural. Baby's Bliss Gripe Water is an all natural, herbal supplement used to ease the gas and stomach pain often associated wit colic, hiccups, and teething. Our product is based on an original gripe water formula that has been used for over 100 years. At Mom Enterprises, we are dedicated to providing products of the highest quality with natural ingredients that families can use with confidence. Baby's Bliss Gripe Water is formulated under strict manufacturing practices to assure quality and safety. Our Gripe Water is 100% natural, ensuring that babies get only the best ingredients for their well being. Works in 5-20 minutes. No alcohol. Organic fennel and ginger. Contains no parabens, alcohol, fillers, binders, artificial flavors, artificial color, yeast, wheat, gluten, dairy, or starch. Ginger and fennel have been shown to be beneficial for easing nausea and discomfort due to gas and stomach upsets. This statement have not been evaluated by the Food and Drug Administration. This product is not intended to diagnose, treat, cure, or prevent disease. Made in the USA.
Other Ingredients: Deionized Water, Vegetable Glycerin, Fructose, Citric Acid, Citrus Bioflavonoid Extract, Grapefruit Seed Extract, and Natural Fennel Flavor.
Shake well. May be taken directly by dropper or in a bottle up to 6 times in a 24-hours period. We recommend discarding 6 weeks after opening. Babies 2 Weeks to 1 Month of Age: 1/2 tsp (2.5 ml). Infants 1 to 6 Months of Age: 1 tsp (5 ml). Children 6 Months and Older: 2 tsp (10 ml). Adults: 2 tbsp (30 ml). Refrigeration not required. Store at room temperature.
Keep this and all supplements out of the reach of children. Do not exceed recommended dosage. Do not give to a child if they are allergic to soy or any of the ingredients. Since infants have immature immune systems, a possibility exists that an infant may have a rare allergic reaction. Should not be given if there is a history of kidney failure or renal problems. Always consult your health care provider prior to giving this or any supplement to an infant. Contains soy. Tamper Evident: This product has a white neck seal printed with Sealed For Your Protection. Do not use if safety seal is broken or missing.