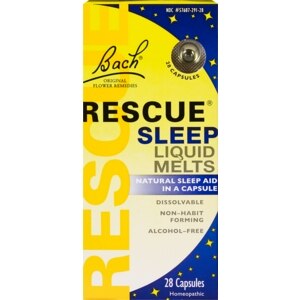 Bach Rescue Sleep Liquid Melts Natural Sleep Aid
A Homeopathic Remedy. Original Flower Remedies. A trusted brand for over 70 years in 66 countries. Made in Switzerland.
Active Ingredients: 5 X Dilution of Helianthemum Nummularium HPUS, Clematis Vitalba HPUS, Impatiens Glandulifera HPUS, Prunus Cerasifera HPUS, Ornithogalum Umbellatus HPUS. Inactive Ingredients: Sugar Substitute (Sorbitol, Maltitol, Isomalt), Gelling Agent (Gum Arabic), Natural Flavour (Blackcurrant), Citric Acid, Natural Colors (Extract of Red Cabbage, Elder, Black Carrot), Sweetener (Xylitol), Vegetable Oil, Glazing Agent (Vegetable Oil, Beeswax).
Chew one alcohol-free pastille as required. Each pastille contains the equivalent of 1 dose of Rescue remedy. Store below 77 degrees F (25 degrees C).
Keep out of reach of children. If pregnant or breastfeeding, ask a health professional before use. Excessive consumption may induce mildly laxative effects. May contain traces of gluten. Do not use if seal is broken. Not suitable for animals.