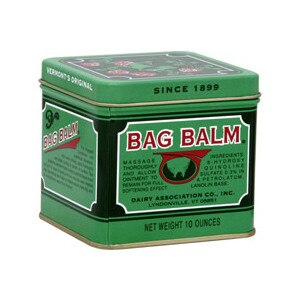 Since 1899, Bag Balm has been the farmer's friend helping keep dairy cows from becoming chapped from the harsh Vermont environment. It's like having another hand on the farm or a helper around the house. Bag Balm works hard all year round - and works well. There's nothing like the original, and that's what you get when you buy this familiar green can.
8-Hydroxyquinoline Sulfate (0.3%) in a Petrolatum, Lanolin Base.
Massage thoroughly and allow ointment to remain for full softening effect. For chapped conditions and superficial abrasions. After each milking, apply thoroughly and allow coating to remain on surface. This protective ointment helps to keep superficial tissue moist and soft. In case of deep or puncture wounds seek medical help. Discontinue use if rash or irritation occurs. Keep this, and all medications, away from children. Special Directions: Bag Balm contains lanolin and stays on to provide moisturizing and softening. For pets, apply Bag Balm liberally to the affected area. For use on cows, thoroughly wash treated teats and udder with separate towels before each milking. To avoid contamination after each milking, bathe the udder with plenty of hot water, strip milk out and dry skin. Apply Bag Balm freely and massage gently with this proven ointment twice daily. This product contains no alcohol.