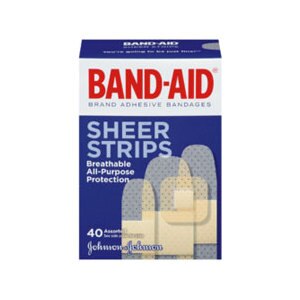 Band-Aid Bandages Comfort-Flex Sheer Assorted Sizes
8 - 7/8 x 7/8 in; 15 - 5/8 x 2 1/4 in; 12 - 3/4 x 3 in; 5 - 1 x 3 in. Stays in place better. Greater comfort and flexibility. Improved shape and material for better protection. Breathable protection. Non-stick pad won't stick to wound for gentle removal. Greater comfort and flexibility for better protection. Sterile unless individual wrapper is opened or damaged. Made in Brazil.
For medical emergencies, seek professional help. The packaging of this product contains natural rubber latex which may cause allergic reactions.