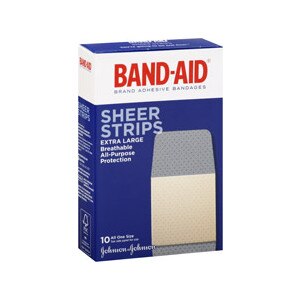 Band-Aid Bandages Comfort-Flex Sheer Extra Large All One Size
1-3/4 inch x 4 inch. Breathable. All-purpose protection. All one size. You're going to be just fine! Sterile unless individual wrapper is opened or damaged. Breathable protection. Non-stick pad - won't stick to wound for gentle removal. For larger cuts and scrapes. In 1920, Earle Dickson, a cotton-buyer for Johnson & Johnson, noticed his wife suffering from minor cuts and burns while cooking. Combining cotton with a piece of surgical tape, he created a new solution that protected her wounds, and sped their healing. His insight led to the creation of Band-Aid Brand Adhesive Bandages. We've been innovating to protect cuts and scrapes ever since. There, for countless moments of caring. Made in Brazil.
The packaging of this product contains natural rubber latex which may cause allergic reactions.