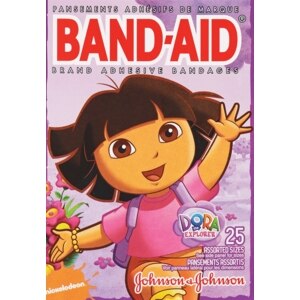 Band-Aid Bandages Dora The Explorer Assorted Sizes
10 - 3/4 inch x 3 inch. 15 - 5/8 inch x 2-1/4 inch. FSC mix. Packaging from responsible sources. This packaging has been manufactured with FSC mixed carton. Sterile unless individual wrapper is opened or damaged. Made in Brazil.
Ouch - you've hurt yourself! Band-Aid brand can help. 1. Clean with soap and water. Pat dry. 2. Treat with first aid cream. Have an adult do it for you. 3. Protect with a Band-Aid Brand Adhesive Bandage.
For medical emergencies seek professional help. The packaging of this product contains natural rubber latex which may cause allergic reactions.