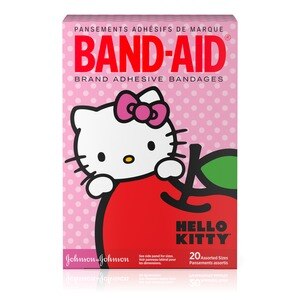 Band-Aid Bandages Hello Kitty Assorted Sizes
Sterile unless individual wrapper is opened or damaged. 10 - 3/4 in x 3 in, 10 - 5/8 in x 2 1/4 in. Ouch - You've hurt yourself! Band-Aid Brand can help.
1. Clean with antiseptic wash or soap and water. 2. Treat with first aid cream. Have an adult do it for you. 3. Protect with a Band-Aid Brand adhesive bandage. For medical emergencies seek professional help.
The packaging of this product contains natural rubber latex which may cause allergic reactions.