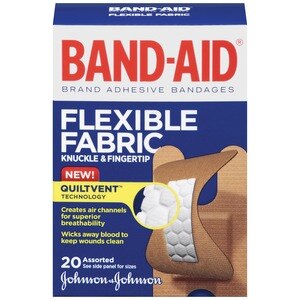 Band-Aid Bandages Knuckle And Fingertip
10 - 3 inch x -7/16 inch. 10 - 2/3 inch x 1-1/2 inch. Quiltvent technology. Creates air channels for superior breathability. Wicks away blood to keep wounds clean. Heals the hurt faster. Inside every Flexible Fabric bandage you'll find these unique technologies: finger care: specially designed to fully wrap around fingers. Extra flexibility: unique memory weave fabric that moves with you. Non-stick pad: hurt-free pad that won't stick to the wound for gentle removal. A covered wound heals faster than an uncovered one. The makers of Band-Aid brand do not manufacture store brand products. Sterile unless individual wrapper is opened or damaged. FSC mix. Packaging from responsible sources. Made in Brazil.
For medical emergencies, seek professional help. The packaging of this product contains natural rubber latex which may cause allergic reactions.