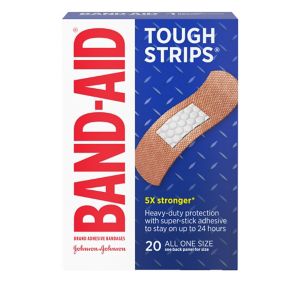 Band-Aid Bandages Tough-Strips One Size
1 x 3-1/4 inch. Quiltvent technology. Creates air channels for superior breathability. Wicks away blood to keep wounds clean. Heals the hurt faster. Inside every Tough Strips bandage you'll find these unique technologies: Greater Durability: Dura-Weave fabric for heavy-duty protection. Superior Adhesion: Super-stick adhesive to stay on longer. Non-stick pad: Hurt-Free pad that won't stick to the wound for gentle removal. Not intended for use on sensitive or delicate skin. A covered wound heals faster than an uncovered one. The makers of Band-Aid Brand do not manufacture store brand products. Made in Brazil.
For medical emergencies seek professional help. Caution: The packaging of this product contains natural rubber latex, which may cause allergic reactions. Sterile unless individual wrapper is opened or damaged.