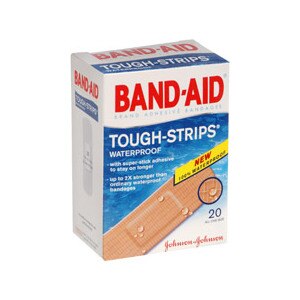 Band-Aid Bandages Tough-Strips One Size
With super-stick adhesive to stay on longer. Up to 2X stronger than ordinary waterproof bandages. 100% waterproof - even when wet, shields out water, dirt and germs. Fiber-reinforced - for strength like duct tape. Super-stick adhesive - stays on until you want it off. Longer than the average bandage. 1 in x 3-1/4 in (2.5 cm x 8.3 cm). Not intended for use on delicate or sensitive skin.
The Packaging of This Product Contains Natural Rubber Latex Which May Cause Allergic Reactions. For medical emergencies seek professional help.