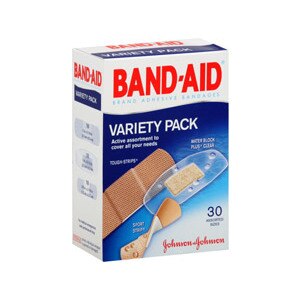 Band-Aid Bandages Variety Pack
10 - 1 inch x 3-1/4 inch; 10 - 1 inch x 2-1/2 inch; 10 - 5/8 inch x 2-1/4 inch. Active assortment to cover all your needs. Water Block Plus Clear: 100% Waterproof. Easy to apply. Sport Strip: Cushioned foam protection. Water resistant adhesive. Tough Strips: Super stick adhesive. Heavy duty fabric. Sterile unless individual wrapper is opened or damaged. Made in Brazil.
For medical emergencies seek professional help. The packaging of this product contains natural rubber latex which may cause allergic reactions.