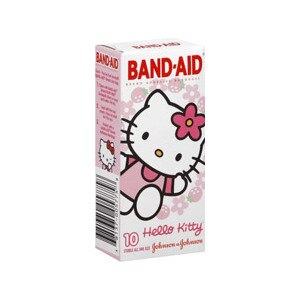 Band-Aid Hello Kitty Adhesive Bandages
3/4 in x 3 in. Sterile. All one size. Sterile unless individual wrapper is opened or damaged. Made in Brazil.
Ouch - You've hurt yourself! Band-Aid brand can help. 1. Clean with antiseptic wash or soap and water. Pat dry. 2. Treat with First Aid cream. Have an adult do it for you. 3. Protect with a Band-Aid brand Adhesive Bandage.
For medical emergencies seek professional help. The packaging of this product contains natural rubber latex which may cause allergic reactions.