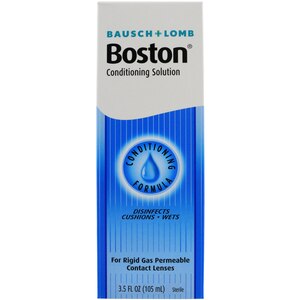 Bausch & Lomb Boston Conditioning Solution Improved Formula
Improved formula. Conditioning formula. Disinfects, cushions, wets. For rigid gas permeable contact lenses and hard/PMMA lenses. Sterile. This unique formula is not sold to any retailer as a store brand. Boston Conditioning Solution contains a wetting agent that coats the surface of your lenses to make them smooth, wet and comfortable. This unique ingredient actually helps reduce friction between your lens and your eye. Made in USA.
Disinfection System: Chlorhexidine Gluconate (0.006%), Edetate Disodium (0.05%). Wetting and Cushioning System: Cellulosic Viscosifier, Cationic Cellulose Derivative Polymer, Polyvinyl Alcohol.
Discard solution 90 days after opening. Store this solution at room temperature. Avoid freezing. Carefully observe directions, warnings and precautions on inner carton.
Do not use if imprinted neckband on bottle is broken or missing. Contraindications: Do not use this solution if you are allergic to any ingredient in this product. Not for use with soft (hydrophilic) contact lenses. Because your eyes are so important, don't experiment with just any brand. Not all gas permeable contact lens conditioning solutions are the same. Use only the brand recommended by your doctor.