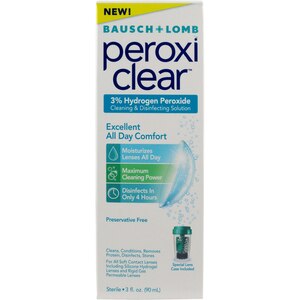 Bausch & Lomb Peroxi Clear Contact Lense Solution
NEW!

3% Hydrogen Peroxide
Cleaning & Disinfecting Solution

Excellent
All Day Comfort

Moisturizes
Lenses All Day

Maximum
Cleaning Power

Disinfects In Only 4 Hours

Preservative Free

Cleans, Conditions, Removes
Protein, Disinfects, Stores

For All Soft Contact Lenses
Including Silicone Hydrogel
Lenses and Rigid Gas
Permeable Lenses

Special Lens Case Included

Sterile

Experience the comfort for yourself.

Enhanced Moisture Formula
TRIPLE-MOIST TECHNOLOGY
Bausch + Lomb PeroxiClear features Triple-Moist Technology", a unique combination of ingredients that attracts, retains, and spreads moisture over the surface of your contact lens, allowing you to wear your contact lenses comfortably all day long.

Active Cleaning System
Bubbles aid the removal of protein and lipid deposits while the solution kills 99.9% of germs* for clean, comfortable lenses.

Unique Neutralization Process
Bausch + Lomb PeroxiClear was carefully formulated so that your lenses are ready to wear after just 4 hours of soaking in PeroxiClear.

*based on ISO 14729 testing against the 5 panel organisms

For All Soft Contact Lenses Including Silicone Hydrogel Lenses, and Rigid Gas Permeable Lenses

CONTENTS: 3% Hydrogen Peroxide with a phosphonic acid stabilizer, potassium chloride, propylene glycol, carbamide, poloxamer 181, citrate and phosphate buffers.
If you are allergic to any ingredient in this product, do not use. See package insert for special rigid gas permeable lens instructions.

SEE INSIDE OF CARTON FOR DIRECTIONS FOR USE AND IMPORTANT SAFETY INFORMATION.

Sensitive Eyes� Plus
If you choose to rinse your lenses with sterile saline after soaking them for 4 hours in PeroxiClear, we recommend that you use Bausch + Lomb Sensitive Eyes� Plus Saline.

100% Satisfaction Guaranteed.
Your satisfaction with PeroxiClear" is guaranteed or your money back. If you are not completely satisfied, need to report an adverse event, or need additional product information call 1-800-553-5340.

For more information visit
www.Bausch.com/PeroxiClear.

Bausch + Lomb cares about the environment.
This bottle and carton are 100% recyclable.

�/TM are trademarks of Bausch & Lomb Incorporated or its affiliates.
�Bausch & Lomb Incorporated

Manufactured by:
Bausch & Lomb
1400 North Goodman Street
Rochester, NY 14609
Made in USA
Ship & Save:

Ship & Save Eligible
DIRECTIONS FOR USE:
Place lenses in special lens case baskets. Only use the lens case provided.
Rinse each lens for 5 seconds with PeroxiClear over a sink or basin.
Fill lens case to line with PeroxiClear and secure lid. Do not invert or shake case.
Leave soaking in lens case for at least 4 hours.
Lenses are ready to use. No final rinse with saline is necessary. If desired, each side of the lens may be rinsed for 5 seconds (for a total of 10 seconds) with a sterile saline prior to inserting.
PRECAUTIONS:

Always discard solution form lens case after each use.
Keep the bottle tightly closed when not in use.
Store at room temperature. Do not freeze.
Use before expiration date printed on the carton and bottle.
Discard bottle and lens case 90 days after opening or after 35 uses, whichever occurs first.
Keep out of reach of children.
Always follow the instructions for use and allow to soak for at least 4 hours. Do not rinse lenses with PeroxiClear before inserting in eyes, or burning and stinging will result. If you accidentally get unneutralized PeroxiClear in your eyes, remove lenses immediately and flush eyes with large amounts of water or sterile saline. If burning or irritation continues, seek help from an eye care professional.

STORAGE: You may store your lenses for a maximum of 7 days in the unopened lens case. If stored longer than 7 days before wear, you must repeat the cleaning and disinfecting cycle prior to wearing your lenses.

WARNINGS:
1 Do not use flat lens case. Always use the enclosed special lens case and neutralizing disc with PeroxiClear.

2 NEVER insert PeroxiClear solution directly into the eye. DO NOT place your lens into the eye until complete neutralization of the solution has occurred (minimum 4 hours).

3 Do not rinse lenses with PeroxiClear solution prior to inserting lenses into your eyes. If you want to rinse lenses, use a sterile saline solution.        
Do not reuse or "top off" old solution left in your lens case. "Topping off" is the addition of fresh solution to the used solution that has been sitting in your lens case.
Always discard any remaining solution from lens case after each use.
Do not use water to care for your lenses.
PeroxiClear IS NOT a multi-purpose solution.
FAILURE TO FOLLOW THESE WARNINGS MAY LEAD TO CONTAMINATION RESULTING IN SERIOUS EYE INFECTIONS OR INJURY AND POTENTIAL LOSS OF VISION.

Red tip means DO NOT put peroxide solution directly in the eye.