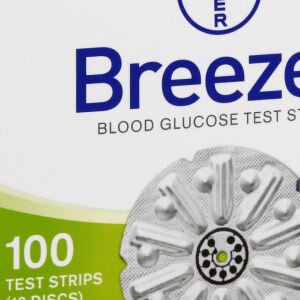 Bayer Breeze 2 10-Test Discs 1466
100 test strips (10 discs). No coding. Only use with Bayer's Breeze 2 Blood Glucose Meter. Control Solution Ranges: low 39-68 mg/dL; normal 89-121 mg/dL; high 224-292 mg/dL. Made in USA.
Reagents: Glucose Oxidase (10% w/w) (Aspergillus Niger, 24 U/mg), Potassium Ferricyanide (68.5 % w/w), Nonreactive Ingredients (21.5 % w/w).
Before using this product, read the package insert carefully. Store between 59-86 degrees F and out of direct sunlight.
For in vitro diagnostic use.