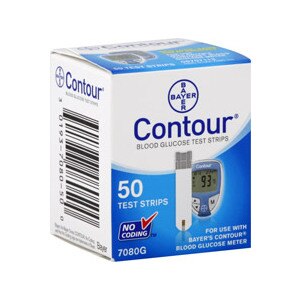 Bayer Contour Blood Glucose Test Strips 7080d
7080G.
For use with Bayer's Contour Blood Glucose Meter.
No coding.
Test strips made in Japan.
Reagents:
FAD Glucose Dehydrogenase (Aspergillus SP, 2.0 U/Test Strip) (6% w/w)
Potassium Ferricyanide (56% w/w)
Non-Reactive Ingredients (38% w/w)
Before using this product, read the package insert carefully.
Store between 59-86 degrees F and out of direct sunlight.
For in vitro diagnostic use.