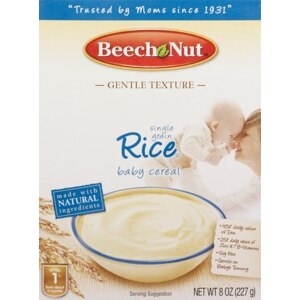 Beech-Nut Homestyle Single Grain Rice Baby Cereal Stage 1
Gentle texture. Made with natural ingredients. Just like homemade. 45% daily value of iron. 25% daily value of zinc & 7 B-vitamins. Soy free. Gentle on baby's tummy. A family-owned company. Moms have trusted Beech-Nut for the nourishment of their babies since 1931. At Beech-Nut, we believe in making foods the natural way, just like homemade. We start by carefully selecting high quality ingredients. Our baby foods are gently prepared like you would make them at home. The result is a wholesome food with a gentle taste and texture made especially for your baby. The Homestyle Difference: Just like you would prepare at home for your family, our recipes are simple, pure and natural. We use no artificial colors or flavors. We leave out what you don't want, and leave in the essential nutrients that your baby needs. The Beech-Nut Promise: Our pledge is to continue to provide nutritious food choices to support your child's full potential. Beech-Nut Advancing Nutrition. Made with natural ingredients. No preservatives, artificial colors or flavors. 25% daily value of 9 vitamins & minerals. Soy free. Essential Nutrition for Every Stage: Stage 1 foods introduce fruits, vegetables & single grains to test for food sensitivities. Completely cooked. Add liquid and serve.
Rice Flour, Sunflower Lecithin. Vitamins and Minerals: Tricalcium Phosphate, Electrolytic Iron, Dicalcium Phosphate, Zinc Sulfate, D-Alpha-Tocopheryl Acetate (Vitamin E), Mixed Tocopherols, Niacinamide, Calcium D-Pantothenate, Thiamine Mononitrate (Vitamin B1), Riboflavin (Vitamin B2), Pyridoxine Hydrochloride (Vitamin B6), Vitamin B12, Folic Acid, Vitamin D3.
Tips for Starting Solid Foods: Start with a single-grain cereal. Infant cereal is an important part of your child's diet for both infants and toddlers. Have your baby in an upright position to make swallowing easier. For Easy Mixing: 1. Put desired amount of cereal into a bowl. A. For the first feeding, start with 1 tablespoon. B. Increase as baby's appetite increases. C. For a full serving, use 4 tablespoons. 2. Stir in breast milk, formula, infant juice or water to desired consistency, and feed. Feed your baby cereal once or twice a day. To Microwave: 1. Mix 1/4 cup with 1/4 - 1/2 cup unheated liquid. 2. Warm at Medium (50% power) for 15 - 30 seconds. 3. Stir to even out temperature. 4. Test temperature before feeding. Important: Store dry cereal in a cool, dry place. Use within 30 days of opening package.