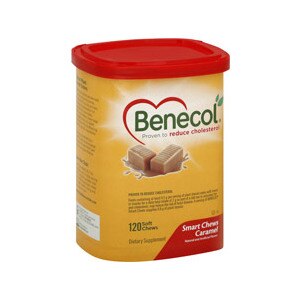 Benecol Caramel Smart Chews
Dietary Supplement. Natural and artificial flavors. Proven to reduce cholesterol. Foods containing at least 0.5 g per serving of plant stanols eating with meals or snacks for a daily total intake or 2 g as part of a diet low in saturated fat and cholesterol, may reduce the risk of heart disease. A serving of Benecol Smart Chews supplies 0.8 g of plant stanols. The sweet way to reduce cholesterol. Feel in control with Benecol Smart Chews, a delicious and convenient way to lower cholesterol. Enjoy these great-tasting chews with meals and snacks each day. Benecol Products contain plant stanol ester which: works to lower LDL (bad) cholesterol; works by actively blocking cholesterol absorbtion in your body; may be used by those taking statin medication for additional cholesterol lowering. About Plant Stanol Esters: Plant stanol esters are derived from natural plant sources. They work for you by actively blocking the absorbtion of cholesterol in your body. Plant stanol esters lower total cholesterol and LDL (bad) cholesterol without affecting the HDL (good) cholesterol. And because Benecol Smart Chews taste so great, it's easy to make them part of your everyday lifestyle.
Sugar, Corn Syrup, Nonfat Milk, Contains 2% or Less of Cornstarch, Soy Lecithin, Glycerine, Salt, Natural and Artificial Flavors, Caramel Color, Yellow 6.
Enjoy these delicious chews daily with your meals and snacks. Benecol Smart Chews can help you meet the National Cholesterol Education Program Guidelines recommended amount of 2 g stanols/sterols per day.
Tamper Evident: Do not use if seal under cap is missing or broken. Keep out of the reach of children. Use as directed.