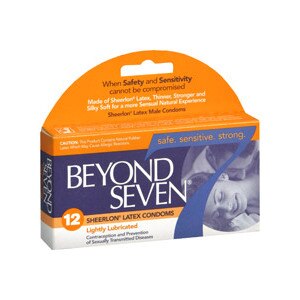 Beyond Seven Sheerlon Latex Condoms Lightly Lubricated
BEYOND SEVEN Male Condoms deliver proven protection against pregnancy and if used properly, will help reduce the risk of transmission of HIV infection (AIDS) and many other sexually transmitted diseases. BEYOND SEVEN condoms are made of Sheerlon, an advanced material so strong and durable, it can be made much thinner than an ordinary latex rubber condom. And Sheerlon has a silkier, more natural feel, much like skin itself. BEYOND SEVEN is lightly lubricated for even more comfort. The Sheerlon difference is a difference you can see, but most importantly it is a difference you will both feel. You'll have the confidence and protection you need, with the sensitive loving closeness you want. Each BEYOND SEVEN condom is individually tested with precise electrostatic technology to maximize dependability. Sheerlon is the trademark for an exclusive latex formula compound.
For maximum benefits, it is important to follow enclosed instructions. Failure to do so may result in a loss of protection.
This Product Contains Natural Rubber Latex Which May Cause Allergic Reactions.