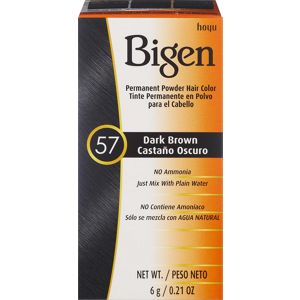 Bigen Permanent Powder Hair Color 57 Dark Brown
Contains no ammonia. Requires no hydrogen peroxide.
Sodium Perborate; Cellulose Gum; Sodium Sulfate; Tartaric Acid; p-Phenylenediamine Sulfate; Disodium Lauryl Sulfosuccinate; m-Aminophenol; Algin; Sapindus Mukurossi Peel Extract (Sapindus Mukurossi); Magnesium Stearate; Fragrance (Parfum)
THIS PRODUCT CONTAINS INGREDIENTS WHICH MAY CAUSE SKIN IRRITATION ON CERTAIN INDIVIDUALS, AND A PRELIMINARY TEST ACCORDING TO ACCOMPANYING DIRECTIONS SHOULD FIRST BE MADE. THIS PRODUCT MUST NOT BE USED FOR DYEING THE EYELASHES OR EYEBROWS. TO DO SO MAY CAUSE BLINDNESS.