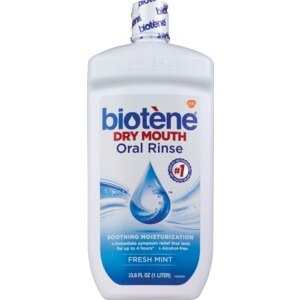 Biotene Dry Mouth Oral Rinse
Protein-enzyme system. Alcohol-free. Refreshes without burning. No. 1 dentist & hygienist recommended brand for dry mouth. Clinically tested and used by hospitals. Healthy Tooth: Enamel, dentine, pulp, gingiva, sulcus. Damaged Tooth: Plaque, periodontal pocket, receding gum, bacterial and food debris, exposed dentine. Imagine an oral rinse with a soothing gentle feel containing beneficial enzymes - an oral rinse that cleans, refreshes and relieves dryness and soothes oral irritations. That oral rinse is biotene. Only biotene contains beneficial enzymes found in saliva to help maintain the oral environment and help relieve dryness. Also look for relief with other biotene products including biotene toothpaste, biotene oralbalance gel and biotene mouth spray. Biotene is specially formulated for individuals that experience dry mouth symptoms. Naturally sweetened with xylitol.
Product Type:

Alcohol Free, Rinse, Dry Mouth

Specialties:

Alcohol Free

Formulation:

Liquid

Quantity:

31-40 OZ

Lifestage:

Adult
Purified Water, Propylene Glycol, Xylitol, Hydrogenated Starch Hydrolysate, Poloxamer 407, Hydroxyethylcellulose, Sodium Benzoate, Flavor (Peppermint Oil), Benzoic Acid, Disodium Phosphate, Zinc Gluconate, Lactoferrin, Lysozyme, Lactoperoxidase, Potassium Thiocyanate, Aloe Vera Gel, Calcium Lactate, Glucose Oxidase.
Adults: Use approximately one tablespoon, rinse for 30 seconds then spit out. Use up to 5 times per day unless otherwise instructed by a healthcare professional. Children 12 Years and Under: Do not use unless directed by a healthcare professional. Store below 77 degrees F (25 degrees C).
Contains milk & egg derivatives. If symptoms of dry mouth persist, consult a healthcare professional. Keep out of reach of children. Do not swallow. Do not use if shrink sleeve is missing.