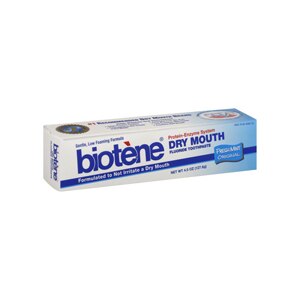 Biotene Dry Mouth Toothpaste Antibacterial Fresh Mint Original
Antibacterial enzyme system. Gentle, low foaming formula. Enzyme protection plus fluoride plus calcium. Reduces bacteria & gum irritations due to dry mouth. No. 1 recommended dry mouth care. Helps restore and strengthen your saliva's natural defenses. Triple enzyme protection: Lactoperoxidase; Lactoferrin; Lysozyme. Contains oral enzymes necessary for maintaining healthy teeth and gums. Clinically proven to reduce the bacteria associated with plaque and gingivitis. Promotes healing of bleeding gums and inflammation. Effectively fights the causes and effects of bad breath. Gentle, low foaming sodium lauryl sulfate-free formula. You may not realize you suffer form dry mouth until it causes serious dental problems. If you are experiencing two or more of following, it's probably due to dry mouth: constant dry feeling, cracked lips, sore of bleeding gums, cavities, excessive plaque, bad breath. The most common cause of dry mouth are medications. More than 400 commonly used drugs can alter your saliva flow. Dry mouth- the hidden cause of plaque, gum disease and eventually tooth loss. After using Biotene - gum issues are healthy and plaque is reduced (Biotene was used as part of a comprehensive professional program. Studies upon request.). Biotene Dry Mouth Toothpaste combines patented antibacterial enzymes with essential components to restore and strengthen you mouth's natural defense system. No other toothpaste increases your saliva's protection against harmful bacteria. Helps maintain a healthy oral environment to prevent irritations, cavities and bad breath. Helpful to anyone having difficulties maintaining good oral hygiene. Naturally sweetened with Xylitol. This product contains no sugar and no saccharin. No sodium lauryl sulfate (SLS). Made in USA.
Active Ingredient: Sodium Monofluorophosphate (0.14% w/v Fluoride Ion). Other Ingredients: Calcium Lactate, Calcium Pyrophosphate, Cellulose Gum, Flavor, Beta-D-Glucose, Glycerin, Hydrated Silica, Isoceteth-20, Potassium Thiocyanate, Sodium Benzoate, Sorbitol, Xylitol. Enzyme System: Glucose Oxidase, Lactoferrin, Lactoperoxidase, Lysozyme.
Adults and Children Under 2 Years of Age and Older: Brush teeth thoroughly, preferably after each meal or at least twice a day, or as directed by a dentist or doctor. To minimize swallowing for children under 6, use a pea-size amount and supervise brushing until good habits are established. Children Under 2 Years: Ask a dentist or physician.
Keep out of reach of children under 6 years of age. If you accidentally swallow more than used for brushing, get medical help or contact a Poison Control Center right away.