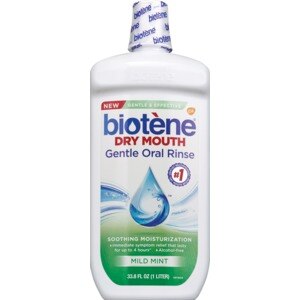 Biotene Moisturizing Oral Rinse Mild Mint, 33.8 OZ
With calcium. Plaque-biofilm dissolving formula. Alcohol-free. Removes plaque-biofilm where bacteria hide. Dissolving action! for deeper cleaning. Plaque & bacterial debris. Periodontal pocket. Kills germs more effectively. Fresh breath - 6x longer. No. 1 dentist recommended brand for dry mouth. Plaque is a biofilm created by bacteria to hide within. Biofilm leads to hard to remove tartar, harmful bacterial growth, tooth decay, gum disease and bad breath. With Biotene PBF Mouthwash patented enzyme formula, you can dissolve and help prevent excessive Plaque Biofilm for better dental check-ups and easier teeth cleaning. Biotene PBF Mouthwash also contains the proven LP3 Salivary Enzyme System to strengthen the natural antibacterial system in saliva. Essential for anyone having dry mouth or oral irritations. Kills germs more effectively. Fresher breath up to 6 times longer. Brings out the natural whiteness of teeth. Contains no saccharin. Naturally sweetened with xylitol. Made in USA.
Product Type:

Mouthwash, Dry Mouth

Specialties:

Alcohol Free

Formulation:

Liquid

Quantity:

31-40 OZ
Purified Water, Propylene Glycol, Xylitol, Polyglycitol, Poloxamer 407, Hydroxyethyl Cellulose, Sodium Benzoate, Benzoic Acid, Natural Flavors, Sodium Phosphate, Zinc Gluconate, Calcium Lactate, Aloe Vera, Potassium Thiocyanate. Active Enzymes: Lactoferrin, Lysozyme, Lactoperoxidase, Glucose Oxidase, Mutanase, Dextranase.
Use approximately one tablespoon. Swish thoroughly for 60 seconds and spit out. Use 2-3 times daily. For best results: wet toothbrush with PBF Mouthwash, and brush with toothpaste. Swish with PBF Mouthwash.
Do not use if shrink sleeve is missing.