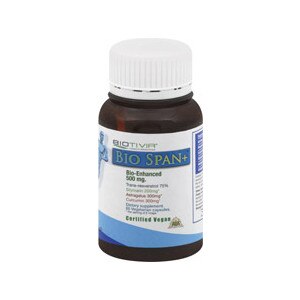 Biotivia Bio Span+ Longevity Support Capsules 500 mg
Other Ingredients: None, No Fillers, Silica or Magnesium. All Vegetable Pfizer Capsules.
Take one or two capsules before breakfast each day. Pregnant or lactating women consult physician first. Do not remove the small flat packets contained in the bottle. These patented oxygen and moisture absorbers prevent oxidation and aging of the resveratrol contained herein and extend shelf life by 100% or more. Storage Instructions: Keep in a cool dark place away from access by children.