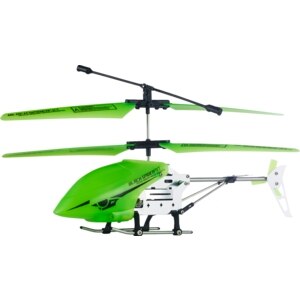 Black Spider-XT Tactical Wireless Indoor Helicopter, Assorted Colors
Ages 9+. 2 channel. Flies forward, hovers & turns. Rapid charge. Indoor flight. Wireless rechargeable micro helicopter. 2 channel controller with trim adjustment. 3 built-in frequencies for flying with friends. Heavy-duty design with real metal parts. Approximate range: 30 feet. Helicopter Features: Heavy-duty construction made with metal parts. 2 channel controller flies up, down, left and right. 3 frequency infrared remote and helicopter charger in one. Built-in twin LED headlights and red flashing warning light. Heavy-duty construction with solid metal parts. IR controller and charger in one. Wireless 2 channel IR remote. FCC listed. Infrared controller requires 6 AA batteries (not included). Made in China.
Keep this package for reference as it contains important information.
Battery Warning: Do not mix alkaline, standard (carbon-zinc) and rechargeable batteries (nickel hydride). Do not mix old and new batteries. Non-rechargeable batteries are not to be recharged. Rechargeable batteries are to be removed from the unit before being charged (if removable). Rechargeable batteries are only to be charged under adult supervision (if removable). Exhausted batteries are to be removed. The supply terminals are not to be short-circuited. Only batteries of the same or equivalent type as recommended are to be used. Batteries are to be inserted with the correct polarity (see diagram).