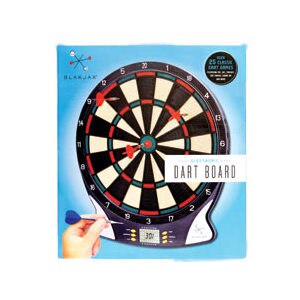 BlakJax Electronic Dart Board
Electronic Dart Board

Product Features:
Regulation 15" dart board profices over 25 classic games, plus variants on 301 and many others
LCD panel display and electronic sound effects for exciting dart action
Perfect for single, double or multi-player
Includes dart board, 6 throwing darts, replacement tips and mounting hardware
Requires 3 - AA batteries (not included)
Safety Warnings - Please Read Before Using Product
CAUTION: Sharp points. Adult supervision required at all times.
Never throw darts at or near other people.
This is not a childrens's product. Darts is an adult activity.
For use with soft-tip darts only. using steel tips will cause damage to dartboard.